Cellar Door Wine Tastings & Sales
All are welcome to come along and enjoy our newly extended outdoor deck and lawn area and kids playground area. Come along and taste from our award winning range of wines and try our delicious wood fire pizzas and local produce platters while enjoying the view of the surrounding hills and vineyard. Join as a member of our Cellar Door Club (no fee to pay) and take advantage of our members discounts or order on line with free delivery to your door.

We recommend pre booked seated wine tastings for our indoor area and outdoor deck and lawn areas. Simply enter your details and day/time you wish to book using our online booking system below.
For Group Bookings of 10 persons or more please see below for more details. You can enter a Booking Request using our online booking system below and an email reply will be forwarded to you within 24 hours. If you have any questions please phone (08) 83239888 or email sales@jjwines.com.au.
We are open for wine tastings & sales or pick up orders or we can arrange delivery of any of our wines to your home or business. You may order 'on line' at www.jjwines.com.au and please take advantage of our special offers. You are welcome to email your enquiry to sales@jjwines.com.au or call us on (08) 83239888 (11am to 4pm daily)
Wine Tastings (you must be 18 years or over)
Tastings of a selection of current vintages are offered daily. With reduced capacity due to current restrictions we recommend booking in advance. We have a $5 tasting fee per person for up to four wines, redeemable on any purchases of our range of bottled wines on the day.
We offer a range of local produce platters and smaller plates to complement our wines. Stay a little longer, enjoy the comforts of the deck overlooking the vineyard or bring a picnic rug and breathe in the fresh air while indulging on the very best the Vale has to offer.
Bring along the kids to play in our lawn area and playground and have some fun with giant chess and lawn games. We are pet friendly however all pets must be on a leash and on our lawn area only (not allowed on deck area)
Group Tastings (Bookings Essential)
For group bookings of up to 10 people we offer a 60 minute tasting of four wines at $5 per person (redeemable on take home wine purchase). We also offer a choice of red or white wines paired with local cheese and accompaniments in a comfortable seated setting from $10 per person (available by prior arrangement at the time of group booking).
Bookings are essential for all group tastings with more than 10 people and we require confirmation of final numbers no less than 48 hours prior. A deposit is payable on all group bookings.
Please note:
We welcome bookings from tour bus operators but do not accept licensed buses or coaches.
Our premises are licensed and we serve food, therefore it is prohibited by SA state law to bring any food or drinks of any description on to the property.
Platters & Wood Fire Pizzas
Wood fire pizzas and a selection of local produce cheese and meat platters and small plates are now available at Cellar Door on Saturday and Sunday 11.30am – 3.00pm daily. These may be restricted when private functions are being held. Bookings are recommended.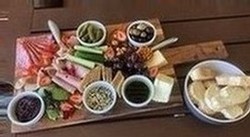 Family or Corporate Functions
Please call us at cellar door on 08 8323 9888 and ask us about how we can offer a tailored experience for your next family celebration, birthday party or corporate function or group meeting for up to 50 people. Alternatively email us at sales@jjwines.com.au with your requests.

Cellar Door Tasting Room
67 Rivers Lane McLaren Vale SA 5171
Phone 08 83239888
We are open Saturday & Sunday. 11:00am - 4:00pm
Drop in and taste our range of premium quality Organic wines.